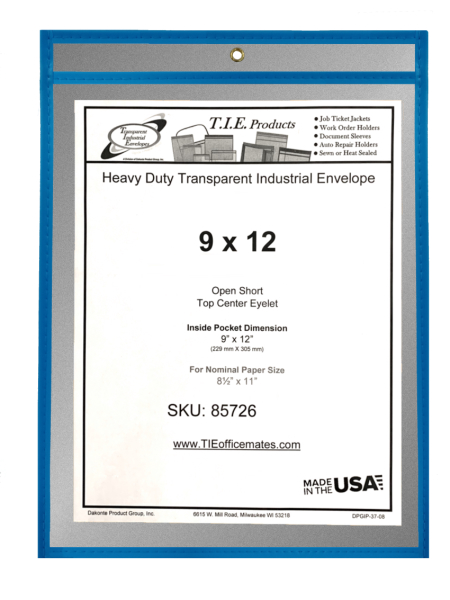 The most popular size job ticket holder is 9" x 12" which actually has an inside pocket dimension of around 9-3/4" x 12-1/2". This gives ample room for organizing and protecting letter size documents that are 8-1/2 x 11". But the overall outside is 10" x 13-1/2". Checking product dimensions is important before you buy.
Read more below for information to help you select the size right for your job. (For common paper sizes see Common Paper Sizes)
Quick Rules of Thumb For Size Selection
Obviously, the inside dimension of the holder needs to be larger than your paper size but you do not want it to be too tight. That can make it difficult to slide papers in and out of the pocket.
The rules of thumb below can help you select the right size.
Add 1/8" (0.125) to width of paper for one sheet, or as sign holder.

Add 1/4" (0.25") for up to 25 sheets of paper.

Add 1/2" (0.50") for up to 50 sheets.

Add 1" (1.00) for fast and easy insertion and removal of contents.

For large items, consider holders with expandable side gussets.
Four Key Questions
What size is my paper or item?
How many need to fit into the holder?
How is the holder being stored - hanging or needs to fit into a drawer or filing box?
And how often will items be put in and out of the holder?
The first two questions on size and quantity are usually easy, just be sure to measure the largest item being stored in the holder when selecting the size.
Also keep in mind that papers frequently handled tend to wrinkle up and instead of stacking into a nice compact thin pile of paper, fewer pages end up 'puffing' up and taking up more room. So 5 to 10 pages of paper could end up being as thick as 25 or more pages.
And if the holder needs to fit into a filing drawer, box or other container, be sure the outside dimensions of the holder selected will work.
The last question on how often papers or items will put in and taken out of the holder is very important when selecting the best size for your needs.
Options for Frequently Used Holders
If contents will be frequently pushed in and out of the holder, below are some options to make it easier and reduce the risk of papers being damaged from creasing, folding and tearing.
Options for Frequently Used Holders
Still not sure?
Contact customer service and we'll help you find exactly what you need!
Call 800-238-3957 E:Sales@dakonteproducts.com Contact Form