TWO POCKET HOLDERS
Heavy Duty Double Pockets
- Front Pocket Keeps Smaller Items Easy to Find.
- Multiple Pockets Organizes Paperwork.
- Additional Pockets Can Be Special Ordered.
- Barcodes Scan Eaisly Thru Clear Covers.
- 16 Standard Colors to Organize & Prioritize.
- Portrait and Landscape Views Available.
- Add Magnetic, Adhesive, Velcro® Mounting Strips.
- Expandable Pockets Available Special Order.
Made in USA, Short Lead-Time on Special Orders!
Contact Us for Special Order Pricing and Lead-Time
SHOP All PRODUCTS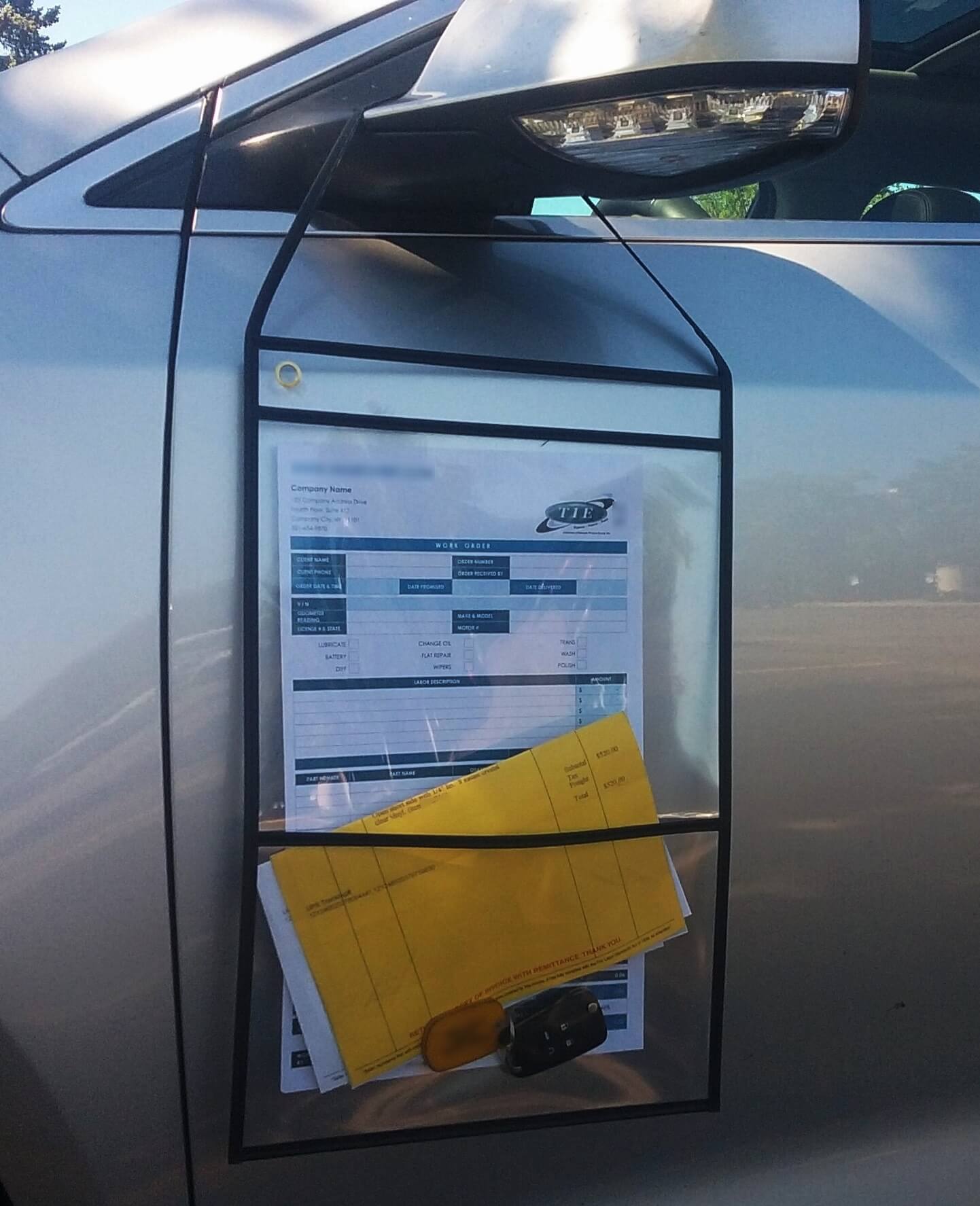 About Our Products
Heavy duty quality and made in USA for over 35 years, TIE Officemates makes long-lasting vinyl holders for work orders, job tickets, repair tickets, class assignments, small tools, parts, posters, signs, printing plates and more.
The plastic materials and bonded thread used to sew our stitched holders are heavier gauge than most imported discount brands. Our 8 gauge covers are clear rigid PVC plastic that will keep your documents flat and protected compared to the thin and flimsy covers used by some competitors to reduce cost and quality. 
TIE Officemates' industrial sewing processes produce tighter thread counts along the edge seams that combined with strong bonded thread delivers an apparel quality appearance that also holds up in the most demanding environments.
With 16 standard edge trim colors to choose from, our customers use color coding strategies to visually organize and prioritize their workflow in manufacturing, offices, print shops, classrooms, medical facilities, hotels, retail stores and management consulting projects.
Visually organizing your paperwork using color coding can accelerate processing times by reducing hunting around to find job assignments, status reports and customer information. Color coding can visually assign work to specific departments and overcome language and other communication barriers by making it easy for people to identify the jobs needing their attention.
Our products are found in nearly every industry imaginable, from pet grooming salons to aerospace programs. You can trust our products to meet your needs. If you need custom sizes or features we can help too.
Call or email today for a sample to compare and see the difference!